You are here:
Home
»
Relationship advice
» How to increase male libido
How to increase male libido
Part 1, Part 2
"Men low libido" and "low libido in male" - Short and to the point - pardon the pun ;-) - search terms men use when looking for ways to improve male libido. I am sure it comes as little surprise that there are far more searches for how to increase libido for women.
I am glad though that you are, possibly finally, prepared to do something about your low sex drive. I hope that you find the information here on low libido in men helpful and that you take action to start resolving the problem.
You and your partner or spouse deserve a great sexual relationship. My guess is that you have been feeling that you have let her or him down lately (quite apart from the fact that you are suffering).
Can't be doing with too much reading? Would like to take action right now? No problem: download the Increase Male Libido hypnotherapy MP3 track now (or better still: their popular excellent complete treatment bundle).
I would really like you to see your doctor first, but I suspect that you are probably too embarrassed right now (hence your searching online!) and maybe you generally avoid seeing the doc.

How low libido in men is reported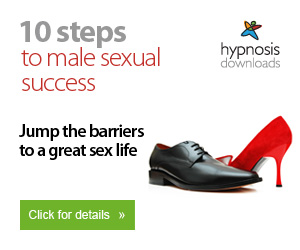 Low libido in a male can be caused by a physical condition, emotional problems (or both of course) and/or medication - much the same as in women.
However, in my counselling practice (I am a qualified couple counsellor) I see far more women who complain of a lack of desire. Actually, more often it is their partner/husband doing the complaining.
I have not counselled many men who have told me freely that they cannot be bothered with sex anymore - too embarrassing, shy or too proud, I am sure.

Again, I am usually told of the problem with sex drive by their partner/wife. Men are much less likely to seek help - even from a doctor, let alone from a counsellor.
Causes of male low libido
I have listed the most likely causes of your low libido. Understanding what is causing your problem will help you to take action right away to correct it yourself, or have a conversation with your doctor. In case of the latter - being well-informed yourself will help you be more assertive about the kind of solution/advice you expect.
Is it your age?
No, surprisingly it isn't according to Australian researchers at the University of Adelaide. They discovered that depression and life-style factors, not your age, causes a decline in testosterone. This in turn leads to a drop in sex drive.

Medication
Science News reports the results of a study on drugs for hair loss and how they may cause low libido. Propecia (finasteride - also prescribed for prostate problems) causes erectile dysfunction, decreased arousal and problems with orgasm in a significant number of men after long-term use. Worryingly the symptoms lingered long after they stopped using the medication (link at the bottom of the page).
If you are taking antidepressants (SSRIs. MAOI, Tricyclics), don't be surprised if your sex drive is not what it used to be. It may have already been affected by the fact that you were depressed. However, chances are that it got worse since you have been on antidepressants.

I get so cross with doctors that they often fail to consider that if men are depressed because they are having relationship problems, they could only make it worse by putting them on antidepressants. How depressing then to find out it may be making matters worse!

If you are taking medication for epilepsy, you unfortunately may not have much choice. However, Carbamazepine can cause impotence.

Medication for high blood pressure also has a negative impact on sexual function. You really want to be informing yourself how you can lower your blood pressure with lifestyle changes and nutritional supplements.

Lifestyle changes are also needed if you are taking medication for peptic ulcers and reflux disease. It may well be that stress reduction techniques and a change of diet mean that you can talk to your doctor about reducing your medication for both.

Benzodiazepams are prescribed mainly for anxiety and depression. Two conditions you can totally improve yourself.
Stress and depression
Stress and depression are the most common causes of a lack of desire in men. I have on this site all the information you need to sort yourself if you feel depressed or stressed.
I know you may be feeling really under the weather with all that stress and depression, but I really want you to do something about it now. Don't delay any longer - avoiding issues will only meant that they are going to catch up with you at some time - and never at a convenient time! Further down I have links to pages to help you deal with depression.
If you are suffering from depression and or/anxiety do explore how you can get yourself better without taking antidepressant medication. One of the side effects of antidepressants is a decrease in sex drive.

I have resourced a really good programme to help lift your spirits sooner rather than later. I recommend an hypnosis full depression recovery system.
Work related stress
Stress at work? If so, it is very likely that the result of that is noticeable at home, even if you have been trying to hide it. You can get away with short periods of stress - probably. However, prolonged periods of stress will take their toll and may well result in a lack of sex drive. Whilst I can't help you right now to deal with the stress at your work, I can point you to a hypnosis download that can help you settle right down - via my page on hypnosis FAQ: Instant stress relief.
There are things you have no control over for sure. However, have you given up actively looking for a solution to problems you do have control over?
Why not hop over to my pages on problem solving strategies for a step-by-step approach to identifying and 'shifting' outdated patterns and finding new solutions? You will feel relieved just by taking some action. Whether it is dealing with a lousy boss or colleague, lack of promotion prospects, or disciplinary issues.
Smoking!
Oh my goodness, gents - if you are smoking - here is what I found in my notes (unfortunately I can't attribute them - I didn't the link to its source - apologies to the originator):
Lower sperm count
Higher percentage of deformed sperm

Reduced mobility of sperm

Seven times more likely to suffer from impotence

Lower sex drive

Teenagers who smoke could be impotent by the time they are 30-40

Sex is likely to be less satisfying

Have sex almost half as much of non-smokers

Normally three hours worth of erections – almost none for smokers

Damages cells that synthesise testosterone
Now, as I don't know where I got this from, I can't completely vow for it, so do your own research. However, if only half of this is true...!
I won't be in the least surprised if you have already tried to give up smoking - maybe several times. So, let your unconscious do the work, instead of your will-power, it is so much more effective! See Hypnosis Online FAQ - Smoking Cessation.
Anxiety
If you suffer from anxiety it is no wonder that you are not doing too well in bed, or have a very low libido to start with. Interestingly an orgasm can in itself relief some anxiety, due to the release of the hormone oxytocin.
However, you really want to be dealing with your anxiety to cure it completely - not just be content with a moment of relief. Anxiety can be such a debilitating condition, and medication is definitely not a long-term solution - however tempting the magic bullet.
You can stop the panic attacks and anxiety. You know it is only going to get worse if you don't do something about it. Counselling (Cognitive Behavioural Therapy) and hypnotherapy can all be helpful.
No treatment is suitable for everyone, however Chris Bayliss is THE specialist on anxiety and panic and knows how to stop those horrible symptoms that go with anxiety (see my page on nervous breakdown - link further down). He has devised a holistic programme that tackles the root of the problems as well as the symptoms from several directions - hence his high level of success treating even the most severe cases. He knows what he is talking about - he himself suffered dreadfully for many years - I am going to let him do the talking. See: How to overcome anxiety.
Relationship or marital problems
About half of all people who suffer from depression have relationship problems. If you are having relationship/marital problems, you will want to stop putting your head in the sand and/or blaming your partner/wife.
Time to take responsibility and do something positive about it. You may find that your low libido is a secondary problem and resolves itself, when you start dealing with the problems between the two of you. So, have a look at my page save your marriage/relationship.
If you are at all unsure whether or not to leave your relationship, this end relationship test can help you to figure it out and come to a more rounded decision.
Feeling neglected? Lacking attention?

Have a look at Text The Romance Back - a fab system for learning how to send
the right romantic text messages and getting your partner to notice you again.
I know it sounds corny and not befitting this site, but really... just give it a try.

Part 2 of How To Increase Male Libido
Fine-tune your relationship and lift your spirits!
SIGN UP for my FREE newsletter

Receive my Sleep Better Forever Ebook FREE

I won't ever pass your email address on!
---
---
Other helpful links:
Phytotherapy Research
- Fenugreek and male libido
ScienceDirect
- Study: Constructions of masculinity and their inflluence on men's well-being
The Journal of Sexual Medicine
- Persistent Sexual Side Effects of Finasteride for Male Pattern Hair Loss
---
News:
25 June 2012 - PsychCentral: Testosterone decline linked to depression, smoking, obesity, but not aging

Images courtesy of: 1 Fran Gambin; 2 Andrzej Gdula
---